Measuring Disruptive Behavior: The Disruptive Behavior Questionnaire
August 1, 2011
55 sec read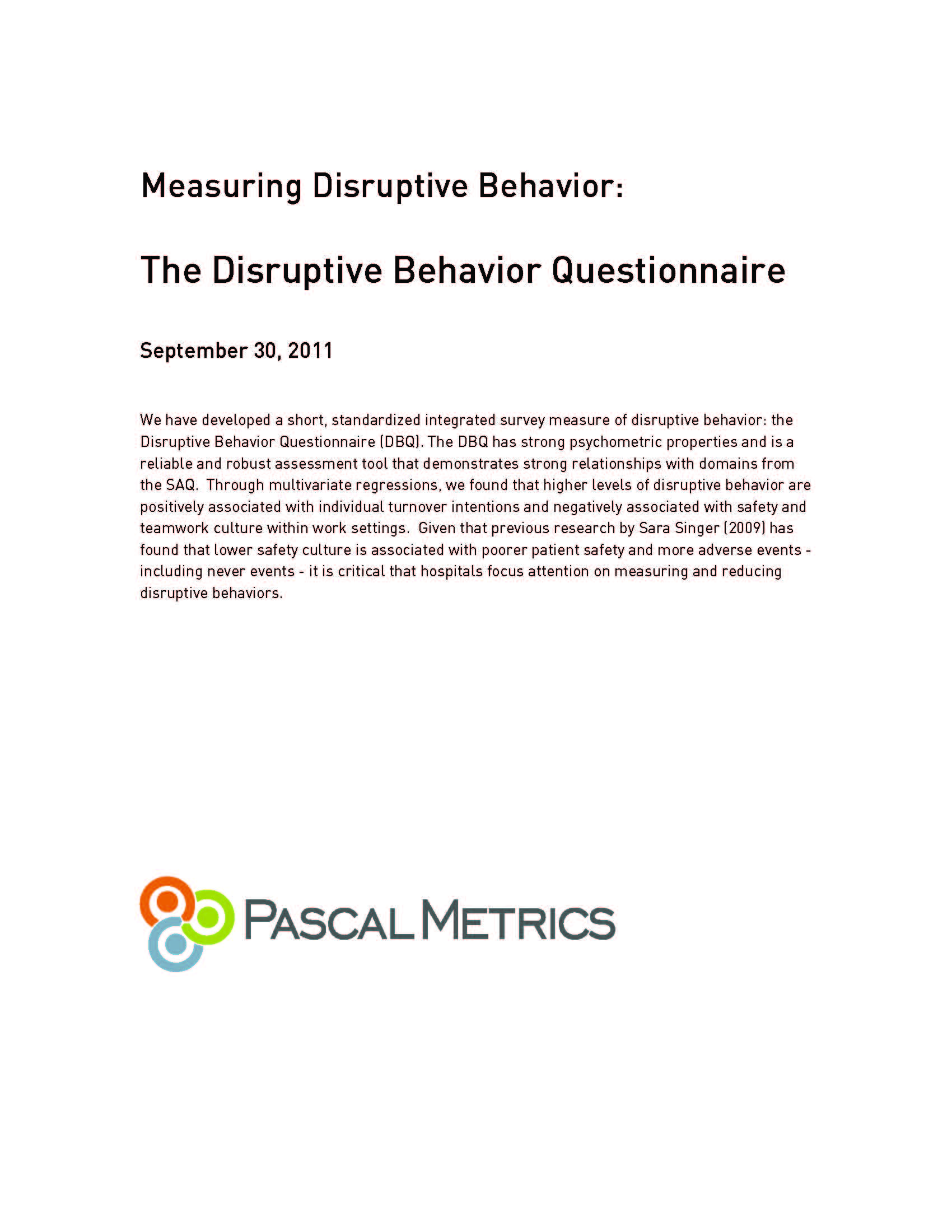 Citation: Housman M, Munro L, & Starosta A. Measuring Disruptive Behavior: The Disruptive Behavior Questionnaire, Washington, DC: Pascal Metrics, 2011.
Abstract: Disruptive behavior in medical settings contributes to medical errors, preventable adverse patient outcomes, decreased patent satisfaction, increased malpractice claims, poor teamwork,1 increased staff turnover, and is likely to reduce the effectiveness of electronic health records. According to The Joint Commission, disruptive behavior includes overt actions such as verbal outbursts and physical threats, and passive activities such as refusal to perform assigned tasks and displaying uncooperative attitudes. Given the broad implications of disruptive behavior on patient safety, staff turnover, and healthcare costs, it is critical for healthcare management to reduce disruptive behavior. While there is no single solution for reducing disruptive behavior, there are several steps that healthcare organizations can take toward this end:
Commit your organization to reducing disruptive behavior from the top down.
Develop a clear and uniformly enforced disruptive behavior policy.
Position people for success.
Measure disruptive behavior regularly.
As the saying goes, you cannot change what you do not measure. It is therefore critical for healthcare organizations to measure disruptive behavior as the first step in addressing it. To this end, Pascal Metrics has developed the Disruptive Behavior Questionnaire (DBQ), a short, standardized, reliable, and robust survey instrument with strong psychometric properties. The DBQ is a tool hospital management can use to assess the prevalence of disruptive behavior and help to manage these behaviors when they occur.




Share: